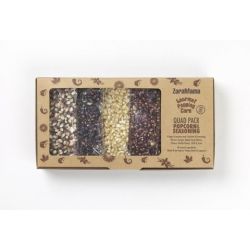 Myslím, že nepoznám nikoho kto by nemal rád popcorn. Či už si ho doprajete v kine k napínavému filmu, alebo si ho vychutnáte len tak večer k televíznemu programu. Málokto však vie, že táto zázračná pochutina môže mať aj svoju zdravú verziu. Samozrejme, že nehovorím o popcorne zo sáčku do mikrovlnky. Objavila som totiž najjednoduchší spôsob ako zdravo a rýchlo pripraviť kukuricu podľa svojej chute.
Keď som pátrala po tom ako pripraviť moju obľúbenú pochúťku bez toho, aby som mala výčitky svedomia voči svojmu zdraviu, narazila som na kopec úžasných informácii. Bolo pre mňa prekvapením, že pôvod má už u indiánov. Tí ho objavili náhodou a považovali kukuricu, ktorá sa zmení na nadýchaný obláčik, za zázračný pokrm od Bohov. Hádzali suchú kukuricu na horúci kameň a sledovali kúzlo jej premeny. Aby som ale neznela moc rozprávkovo, pozrime sa aj na vedecky podložené fakty. Podľa analýzy amerického výskumníka Joe Vinstona z University of Scranton v Pensylváni, obsahuje takáto forma kukurice vlákninu a je hlavne bez lepku! Mám kamarátky, ktoré trpia celiakiou a vždy si lámem hlavu čo im pripraviť na chrúmanie. Preto som rada, že im s kľudným svedomím môžem ponúknuť doma pripravovaný popcorn. A tu sa dostávam k najdôležitejšej časti. Vypátrala som pomôcku, s ktorou vyrobím nadýchaný rovnako zázračne rýchlo ako kedysi indiáni :) Objavila som PoPuP Richard Bergendi! Silikónovú nádobku, s ktorou budem mať popcorn po akom len zatúžim.
Neváhala som si ho hneď objednať a na druhý deň som sa už tešila pri rozbaľovaní balíčka. Už na prvý pohľad ma potešila chutná krabička s pekným dizajnom. Po otvorení krabičky tam bola vizitka a poskladaná šikovná silikónová forma. Na stránke boli dostupné v modrej, zelenej a červenej farbe. Ja som si vybrala modrú.
Obr.
Bolo pre mňa dôležité, aby silikón spĺňal normy zdravotne nezávadného silikónu. Toto označenie som našla na spodnej časti nádobky. Je tam aj údaj, že popkornovač je vyrobený zo 100% Platina Silikónu. Plus sa tu uvádzajú dodatočné informácie o podmienkach používania. Silikón znáša aj vysoké teploty a pri ohýbaní nebolo vidieť biele čiary ako je to pri lacnom silikónovom materále.
Obr.
Veľmi praktické mi prišlo značenie objemu vo vnútri nádobky. Na spodku je vyznačená ryska na 50g a 100g. Nepotrebovala som žiadne ďalšie odmerky, ani nádobky. Len pridáte kukuricu a ochutíte podľa svojej chute. Hneď som teda nasypala 50 g kukurice. Ja osobne ľúbim slaný popkorn s kvapkou olivového oleja. Keďže je sezóna byliniek, tak som si pridala bazalku. Ešte trocha parmezánu, chytila som nádobku za praktické ušká a veľmi jednoducho všetok obsah premiešala. Poddajný silikón sa tak ohol, že som sa nemusela báť, že by mi niečo vypadlo. Kto si ale nie je istý, môže použiť poklop, ktorý je priložený.
Popkorn si viete pripraviť aj úplne bez pridania oleja. Či už ľúbite sladký, slaný, maslový. V tejto zázračnej nádobke si ho pripravíte ako len chcete.
Už prikrytý PoPuP som dala do mikrovlnky a nastavila na 3 minúty pri 700W. Po minútke a 10 sekundách som videla, že je popkorn hotový, tak som ho vytiahla. Prekvapilo ma, že ušká neboli horúce a mohla som vytiahnuť nádobku rukami.
Najväčším prekvapením bola tá úžasná nadýchaná chuť! Ja som veľmi spokojná s praktickosťou a dokonalou chuťou popkornu. Určite odporúčam každému milovníkovi popkornu.